Improve precise placement on visually defined nerve blocks, so you can get in and out faster. And perform quick and thorough post-operative follow ups. An ideal ultrasound unit for Anesthesiology applications.
Reduce complications in needle guided procedures
Lumify handheld ultrasound for anesthesiology helps you clearly visualize border definition with your needle placement, surrounding nerves, vessels and fascial planes.
Early detection can help keep conditionsfrom becoming critical
Lumify POCUS solutions can help you detect the endotracheal tube within the trachea, assist in emergent cricothyrotomy procedures, diagnose pleural effusion and interstitial alveolar diseases.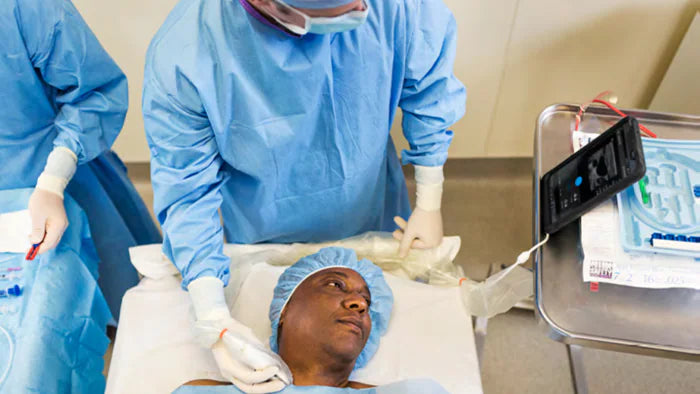 Bring ultrasound bedside
Using Lumify at your patients bedside can be a valuable tool to determine the status of stomach contents and can lower the risk of pulmonary aspiration. Together, this can reduce the risk of anesthesia complications.
Transducers recommended for Anesthesiology
Lumify L12-4 broadband linear array transducer

• 12 to 4 MHz extended operating frequency range

• Aperture size: 34mm

• 2D, steerable color Doppler, M-mode, advancedXRES and multivariate harmonic imaging, SonoCT

• High resolution imaging for shallow applications: soft tissue, vascular, superficial, musculoskeletal, and lung

• Center line marker

• USB-C transducer with replaceable cable

Buy now

Lumify S4-1 broadband phased array transducer

• 4 to 1 MHz extended operating frequency range

• 2D, color Doppler, M-mode, advanced XRES and multivariate harmonic imaging

• High-resolution imaging for abdominal and cardiac applications: Cardiac, OB/GYN, Lung, Abdomen and FAST imaging preset optimizations

Buy now