Lumify handheld ultrasound for office practice gives you the ability to better assess patients in clinical settings outside of the hospital. An ideal ultrasound unit for primary care and family practices.
Lumify sees what you can't
Ultrasound exams can improve your ability to identify and successfully treat skin abscesses.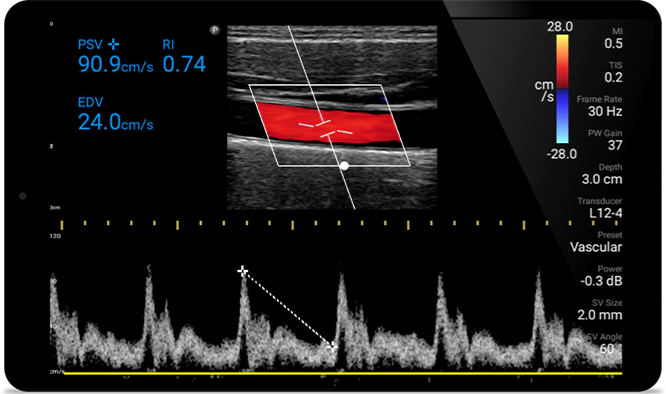 Early detection can help keep conditions from becoming critical
Congestive heart failure is a growing issue today. Discovering it earlier with in-office ultrasound can greatly improve survival rates.
Exam results at your fingertips
Lumify makes it easy to store and access patient exam results and images right from your compatible Android or iOS device. You can even share those results with colleagues for better collaboration.
Transducers recommended for primary care
Lumify L12-4 broadband linear array transducer

• 12 to 4 MHz extended operating frequency range

• Aperture size: 34mm

• 2D, steerable color Doppler, M-mode, advancedXRES and multivariate harmonic imaging, SonoCT

• High resolution imaging for shallow applications: soft tissue, vascular, superficial, musculoskeletal, and lung

• Center line marker

• USB-C transducer with replaceable cable

Buy now

Lumify C5-2 broadband curved array transducer

• 5 to 2 MHz extended operating frequency range

• 50mm radius of curvature

• 2D, color Doppler, M-mode, advanced XRES and multivariate harmonic imaging, SonoCT

• High-resolution imaging for deeper applications: abdominal, gall bladder, OB/GYN and lung imaging preset optimizations

• Center line marker

• USB-C transducer with replaceable cable

Buy now